Subscribe to hear when the full website launches!
By subscribing, you agree to our Privacy Policy
What would you say to your younger self?
Voice Notes To My Child Self is a participatory poetry project set in a pop-up time travelling recording booth created by poet and artist Ellena Woolf.
The booth tours to different and diverse places, from town centres to youth groups to festivals, inviting people to write and record a voice note to their child self.
Through a variety of creating writing exercises and support from the artist, participants are invited to reflect on how they have grown since their youth, and travel through time to give their younger selves all the advice they wish they'd had.
Participation can be spontaneous, by curiously walking up to the booth, or by taking part in a longer-form workshop session led by Ellena.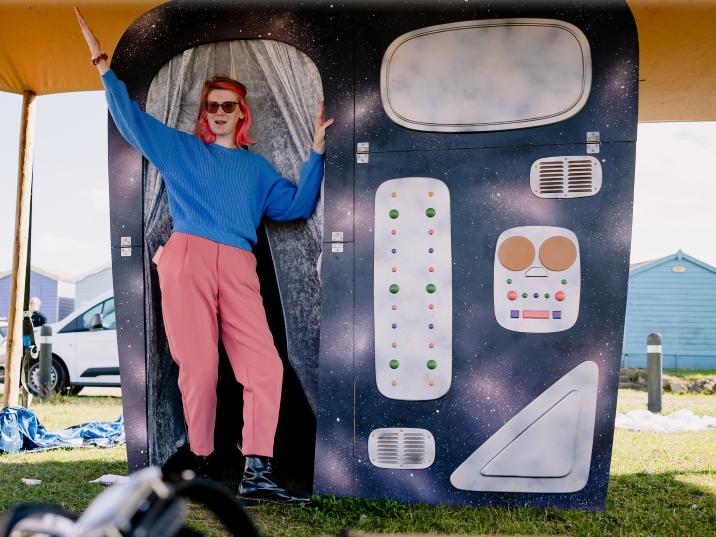 The intimate and poetic recordings are collected, and participants can choose to have them uploaded to our online archive, due for launch later this Summer, where they'll be able to listen to the collective wisdom shared in the booth. The art project is developing and the archive is growing, so soon you'll be able to submit your own voice note digitally if you can't wait to get into the booth.
The project began with the recording of Ellena's own voice note to her child self. Commissioned by the BBC and the Institute of Contemporary Arts, with support from NTS Radio and Creative Arts East, Voice Notes To My Child Self is a poetic response to growing up trans in rural Essex. Blending poetry, song and voice note messages, the piece is by turns tender, defiant and healing.
Listen to Voice Notes to My Child Self on the BBC
Audio recording – 15 minutes
Text & performance by Ellena Woolf.
Composition by Reuben Kyriakides
Creative Team
Lead Artist: Ellena Woolf
Composition: Reuben Kyriakides
Producer: Steve Goatman
Images: Lucy J Toms

Full website coming soon
© 2023 Voice Notes To My Child Self | Website by Queer Web Design